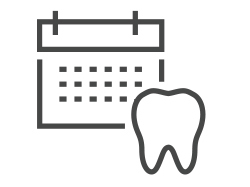 Cancellation & Missed Appointment Policy
All appointments are exclusive reservations. Your appointment time is thus set aside for you alone.
We do value your time and where appropriate schedule longer appointments to efficiently complete as much dental treatment as possible at one visit, thereby causing minimal disruption to your daily schedule. We encourage our patients only to make appointments that they know they will be able to keep.
Dental Emergencies
Emergencies and unforeseen patient treatment problems may arise, causing practice schedule changes. Emergencies invariably arise at the most inconvenient times. If you have a dental emergency that needs immediate attention, we will always offer to see you at once. We expect that other patients who might be slightly inconvenienced by this will be understanding of the emergency situation. At some point, they may need the same courtesy too!
Cancelling Your Appointment
We understand that occasionally you may also have an unexpected need to rebook your appointment. We therefore ask that you notify us at least 24 hours in advance if you cannot make your scheduled appointment, to allow us the opportunity to offer it to other patients.
There is a nominal $25 charge per 30 minutes of scheduled time for a missed appointment or cancellation with less than 24 hours notice during office hours. If our staff is successful in filling your appointment slot with another patient, there will be no broken appointment charge.

Cancellation Policy | (08) 9455 4565