Dental Crowns & Bridges
If a missing or damaged tooth has made you feel underconfident about smiling, Dentist WA Canning Vale can help. Our dentists can assist you to enjoy a healthier, more resilient bite to get through the day. Our dental crowns and bridges are customised to look and feel as close as possible to natural teeth.
Single-tooth Crowns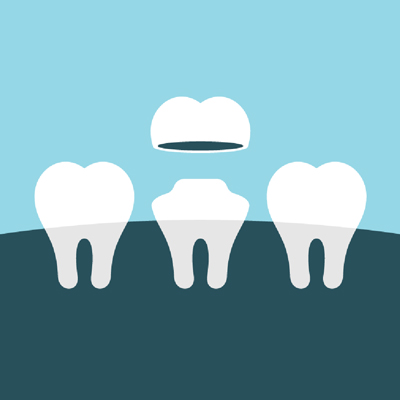 Crowns can be used as a cover or cap to further prevent damage. Improve the appearance, it covers the entire tooth surface, recreating its appearance as well as its stability. There are many benefits of dental crowns:
Allow you to have your full dental function
Consist of durable, long-lasting material
Feel like a natural tooth
Match colour and texture of other teeth
Before placing your crown, we remove any cracked or decaying enamel and take an impression of the tooth. Then, a custom white crown is made of durable aesthetic materials and bonded over the tooth to protect it. The entire process takes about two visits to complete.
Fixed Bridges
Replace a single tooth or multiple teeth with a dental bridge. This solution relies on the existing structure of teeth on each side of the gap. These teeth are prepared with a crown, then fused to the prosthetic tooth for a bridging of the space.
What's the Procedure?
First, the doctor has to examine your mouth and the areas around the missing tooth to determine whether a dental bridge is appropriate for your situation. If you are a good candidate for a bridge, the teeth that are on either side of the missing tooth – the ones that will provide the "anchors" for the bridge – will be prepped for crowns. An impression is taken so that the bridge will fit exactly into the space and blend perfectly with your existing teeth. The first visit ends with the insertion of a temporary bridge to protect the area until the permanent bridge is ready.
At your next and final visit, the permanent bridge is cemented into place and you're all set! If you take care to practice good oral hygiene and maintain your proper dental cleaning and examination schedule, your new bridge should last for a good many years, providing you with a winning smile and a gigantic confidence boost!
Want to Learn More?
Speak to our treatment coordinator today about planning your treatment. She will be able to step you through the process and answer any of your questions!
CONTACT US
* Any surgical or invasive procedure carries risks. Before proceeding, you should seek a second opinion from an appropriately qualified health practitioner.

Dental Crowns & Bridges Canning Vale,Willetton, Thornlie, Southern River WA | (08) 9455 4565