Emergency Dental Care
Receive Immediate Attention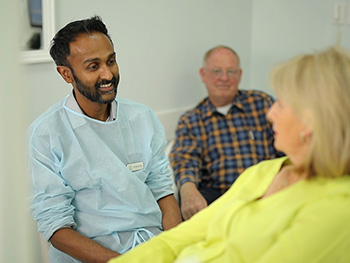 With early and late opening hours seven days a week, Dentist WA Canning Vale is here to promptly handle any dental emergencies. Whether you've had an accident, trauma or are in pain, you need to be seen immediately. We can help problems such as:
Bleeding gums
Broken teeth
Infections
Swelling
Toothaches
If you're experiencing a dental emergency, ring us immediately. Even if we're nearly closed for the day or are booked out, we will be sure to relieve your pain until you can be seen for a full procedure or referred to a specialist. . We accept all major health funds and are preferred providers for HBF, HCF, Bupa, nib and CBHS.
How to Handle a Dental Emergency
At Dentist WA Canning Vale, we hope to help our patients experience first-rate care. Though we hope you don't have to deal with too many dental emergencies, it's important to know how to handle the situation properly. Here's what to consider should you or a family member experience one.
Toothache from Abscess
When you're experiencing a toothache from an abscess, it's important to not irritate the area with your fingers or a compress—instead, rinse your mouth with salty water. If pain is persistent and you're having trouble sleeping, you need to visit an emergency dentist as quickly as possible. Swelling or a prolonged fever are also signs that you should be seen by a dentist or medical professional.
When you lose a tooth suddenly from trauma or a sporting event, it may be able to be saved if you can get to our practice very quickly—typically within 30 minutes. Should the tooth be dirty, rinse it off immediately with milk or clean water. Store the tooth in a milk solution as you transport it to our practice. Though time is of the essence, a tooth can be replanted back into the socket.
Typically, a broken tooth with minimal discomfort requires a visit to the practice within a week. When pain is moderate, try an over the counter pain reliever to manage your pain. In severe cases where sensitivity is nearly unbearable, make an appointment with a Canning Vale emergency dentist as quickly as possible. In the meantime, placing a cold compress onto the face near the injured tooth may help swelling subside. If you're able to save your broken tooth, please do so and bring it in with you for evaluation.
Tough pieces of sweets, food or other objects can become wedged into the teeth and irritate the gum as well as cause bleeding. Attempt to gently remove the debris with floss.
Typically, an orthodontist is required to remedy a problem with braces or retainers, which may include broken brackets or retainers among other problems. If a wire is causing you irritation, use cotton or a soft gauze to place over the irritated wire. Schedule a visit with your practitioner as soon as possible.
Start by cleansing the area with a clean cloth and applying direct pressure to the wound. If the wound swells, use a cold compress. If the bleeding doesn't stop or bite seems severe, it's important to visit a hospital as soon as possible.
Experiencing a Dental Emergency?
If you're dealing with a dental emergency, contact our practice for help. We'll gladly fit you in as soon as possible and look forward to assisting you!
CONTACT US


* Any surgical or invasive procedure carries risks. Before proceeding, you should seek a second opinion from an appropriately qualified health practitioner.

Emergency Dentist Canning Vale, Willetton, Thornlie, Southern River WA | (08) 9455 4565