HCF More for Teeth Preferred Provider
Dentist WA is Proud to be a HCF Preferred Provider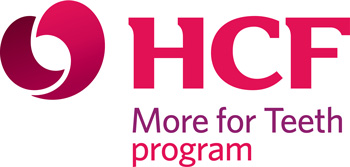 Would you like to enjoy no out of pocket expenses? As a HCF member you are entitled to these benefits every year:
011,012 or 013  Oral Examinations (Limit of 2 per person per year)
022 Intra oral Periapical or Bitewing Radiographs (No annual limit)
037 Panoramic Radiograph (Limit of 3 in any 5 year period)
114 Removal of Calculus (Scale and Clean) (Limit of 2 per person per year)
151 Provision of Mouthguard – indirect (Limit of 2 per person per year)
That means you get one or two fully covered check-ups per calendar year (depending on your level of cover). Plus two fully covered mouthguards (limits apply).
What dental services are covered by my HCF policy?
Additionally, you may elect to take advantage of other dental services provided by HCF's range of dental policies such as Veeners, Root canals and Crowns & bridges.
Enjoy HCF Preferred Provider Benefits
To enjoy these benefits, simply present your HCF health fund card which can be easily processed on our HICAPS machine following your appointment. Schedule an appointment today! Early and late appointments are available 7 days a week.
* Any surgical or invasive procedure carries risks. Before proceeding, you should seek a second opinion from an appropriately qualified health practitioner.

HCF Preferred Provider | Dentist WA Canning Vale