Dental Implants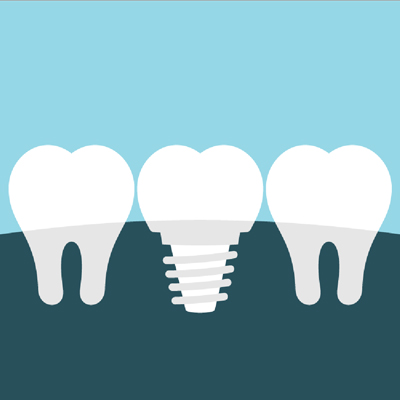 If you've ever felt under confident about your smile due to missing teeth, dental implants could be the answer!
Tooth loss can occur due to decay, gum disease and injury. Dental implants are a durable long term solution for missing teeth and if you've ever felt self-conscious about your smile due to missing teeth, dental implants can enhance your appearance and boost your confidence. Dental implants replace the roots of your teeth and give your fixed or removable replacement teeth a sturdy foundation. Implants are extremely durable and ideal for anyone who doesn't want a bridge or doesn't want to wear dentures to replace a tooth.
What Are the Benefits of Dental Implants?
In addition to improving your smile, dental implants can:
Improve speech – Sometimes traditional dentures can slip in your mouth causing speech impairment. Dental implants allow you to talk with confidence.
Improved confidence – Dental implants can help you feel great about yourself as you smile freely.
Eating is much easier – Trying to eat with dentures can be difficult. Because dental implants act just like your own teeth, you can enjoy your favourite foods confidently.
Last for many years – Dentures are made of a sturdy material and last a long time, potentially for life.
What is the Implant Process Like?
Using state-of-the-art 3D scanning technology, we place your implants precisely and with minimal trauma. You'll heal very quickly with little discomfort.
With Dr Ranjeet Sekhon (Dentist):
Graduating with honours from the University of WA in 2005, Dr Ranjeet is a very experienced dentist, with a wide range of skills in performing more complex extractions, managing dental pain, root canal treatments and cosmetic dentistry.
Dr Ranjeet is an active member of the Australian Dental Association and shares his passion for Dentistry as an educator in the University of WA.
In addition to providing many of our patients with treatment for wisdom teeth issues in the surgery, Dr Ranjeet will be offering treatment under sedation where suitable."
Book a Consultation to Learn More
If you'd like to enhance your smile and improve your self-esteem, we'd like to help. Contact us today to book a complimentary implant consultation with our treatment co-ordinator to see if dental implants are right for you!
Get Dental Implants
* Any surgical or invasive procedure carries risks. Before proceeding, you should seek a second opinion from an appropriately qualified health practitioner.

Get Dental Implants Canning Vale, Willetton, Thornlie, Southern River WA | (08) 9455 4565