Invisalign®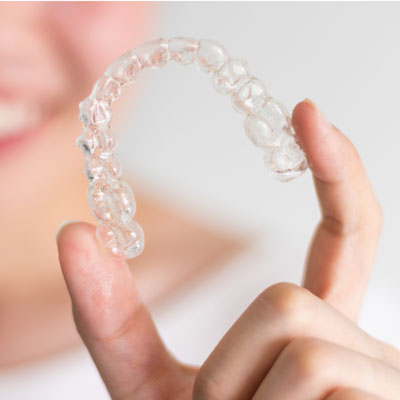 If you've always wanted straighter teeth Invisalign could be right for you. Dr Tim Maxwell loves to assist patients just like you to get great results using the comfortable clear aligner system.
Invisalign can address an array of tooth concerns:
Crowded or crooked teeth
Overbite
Underbite
Crossbite
Gapped teeth
How It Works
Invisalign uses a series of clear aligners to gently shift your teeth into more desirable positions. While traditional metal braces can accomplish this as well, these braces are more noticeable. Invisalign aligners are made from a clear, lightweight material and are barely noticeable. To get the best results, the aligners should be worn for at least 22 hours a day. You can, however, remove them for eating and brushing your teeth.
What Does the Process Involve?
After we determine that you are an ideal candidate for Invisalign, we will take photos of your teeth and face, dental impressions of your teeth, and X-rays. These records are sent to Invisalign with detailed instructions on how we want the teeth to be moved. Invisalign create a 3D model of your teeth based upon your impressions. From this 3D model, we can fabricate your custom-fitted aligners. You'll wear each set of aligners for two weeks, working through your set of aligners. Overtime, your teeth will shift gently and comfortably into their final desired position.
Frequently Asked Questions
Because every person is different so is Invisalign treatment. The average time is between 12-14 months, but it can range from six months to two years.
Does Invisalign treatment hurt?
No; Invisalign treatment overall is considered to be comfortable. You may, however, experience mild discomfort at the beginning of each new treatment stage.
What are the aligners made of?
Your aligners are made of medical grade, BPA-free plastic. The aligners are smooth and practically invisible.
Will my speech be affected by wearing the aligners?
There may be a brief period of getting used to wearing the aligners. You may notice a lisp for a day or two, but it will quickly pass.
How often do I need to see my dentist?
Depending on your particular case, we will likely want to see you every 4-6 weeks so we can monitor your progress.
In most cases, teens who are at least 14 are eligible for Invisalign. The primary requirement is that their 2nd molars have fully erupted.
How much does Invisalign cost?
Because every case is different, the cost of Invisalign treatment will vary from patient to patient. During your consultation with one of our dentists, you will be informed about the projected cost of your treatment. Treatment time, the complexity of your case and treatment goals are all factors that will influence the overall cost.
Does health insurance cover Invisalign?
If your health insurance policy covers orthodontics, it should include your Invisalign treatment. To be sure, however, we recommend that you check your plan and ask your provider for more information.
Get Started Today
Are you interested in achieving a straighter and more confident smile using Invisalign? Please contact us today to schedule a consultation with Dr Lily Taheri.
* Any surgical or invasive procedure carries risks. Before proceeding, you should seek a second opinion from an appropriately qualified health practitioner.

Invisalign® Canning Vale, Willetton, Thornlie, Southern River WA | (08) 9455 4565