Dr Yousr Kanbour
Languages spoken: English and Arabic
Calming & Gentle Approach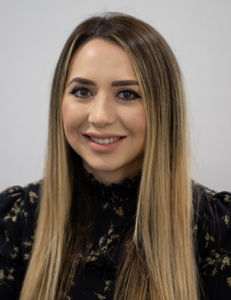 Dr Yousr graduated from the University of Western Australia with a Bachelor in Dental Science in 2014.
Yousr's calming and gentle approach allows patients to leave their anxiety at the door during their appointments. She continuously attends professional development courses as she believes they are paramount to deliver up-to-date dentistry. She loves to give this knowledge back to dental and medical students at workshop events.
Yousr enjoys all aspects of dentistry. She strongly believes everyone deserves a confident smile and it is her passion to provide that for each patient, one tooth at a time.
Other Interests
Aside from dentistry, you can find her participating in competitive games nights, baking, travelling and playing lacrosse – however all in her dreams, as she loves her sleep.
* Any surgical or invasive procedure carries risks. Before proceeding, you should seek a second opinion from an appropriately qualified health practitioner.

Dr Yousr Kanbour | (08) 9455 4565