Dr Yeshani Chandraweera,
BDSc WA
Academic and Professional Background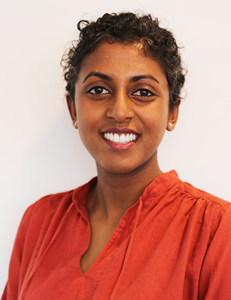 In 2011, Yeshani graduated from the University of Western Australia with a Bachelor of Dental Science.
I was inspired to become a dentist as I could help people in small and large ways whilst also working in an area of science and aesthetics. My orthodontist growing up was also very friendly. He made going to the dentist fun, and I thought this could be an interesting, fulfilling profession.
To stay abreast of the latest in dentistry, Yeshani frequently takes continuing education courses. She likes that these courses make dentistry diverse and interesting. Yeshani considers dentistry a continually evolving field with changes in technology and a profession where you can always improve.
Aside from the technical aspects of dentistry, Yeshani enjoys the interpersonal side as she enjoys meeting new people all the time. It's gratifying for her to convert patients into people who don't fear the dentist and even become friends with them over the years. Yeshani enjoys being able to work in an environment where you can have a good laugh with your colleagues and patients.
In Her Spare Time
When she's not at Dentist WA Canning Vale, Yeshani enjoys spending time with her family. She also likes bike riding with friends on the weekend and gorging on big breakfasts afterwards. Travelling, exploring, and eating all things that are "naughty and delicious" are her other interests.
Book an appointment with Yeshani today!
* Any surgical or invasive procedure carries risks. Before proceeding, you should seek a second opinion from an appropriately qualified health practitioner.

Dr Yeshani Chandraweera | (08) 9455 4565